The 2022 René-Jodoin Award
April 7th, 2022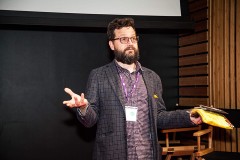 The René-Jodoin Prize, created by the Sommets du cinéma d'animation and the Cinémathèque québécoise in 2015, rewards a prominent, influential and committed personality in Canadian animation. This year, the prize will be awarded to Mr. Chris Robinson.
As an author, programmer and essayist, he has contributed enormously to the promotion of independent animation cinema thanks to his expertise. His caustic style distributing provocative comments and his aversion to meaningless rhetoric, make him a respected and colorful personality. In his books, he covers a wide range of subjects, being able to easily approach Estonian, Canadian and Japanese animation cinema. Robinson is also the editor of ASIFA magazine and a frequent contributor to Cartoon Brew.
In his books Estonian Animation: Between Genius and Utter Illiteracy, Unsung Heroes of Animation, Canadian Animation: Looking for a Place to Happen, Ballad of a Thin Man: In Search of Ryan Larkin, Animators Unearthed, and Japanese Animation: Time out of Mind , Robinson covers a wide range of Canadian and global topics. His most recent works include: My Balls are Killing Me, an illustrated novel including drawings by Andreas Hykade; Mad Eyed Misfits: Writings on Indie Animation; and the script for a live-action film, Drivin'.
The René-Jodoin Prize will be awarded to him on Saturday May 14, 2022.