See Creature signs the official poster of the 21st Sommets du cinéma d'animation
March 29th, 2023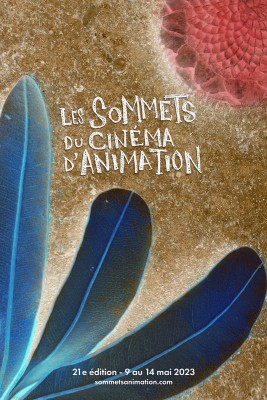 The Sommets du cinema d'animation are very pleased to unveil the official poster for their 21st edition, designed by Sylvie Trouvé and Dale Hayward, the artists behind the Montreal-based studio See Creature.
"The Sommets du cinéma d'animation now take place in May as the warm weather arrives, a perfect time to rediscover the beauty of nature. Masters of stop-motion animation and of puppetry, Sylvie Trouvé and Dale Hayward have created an amazing and appropriate visual, both vegetal and mineral, from natural elements found in New Zealand. An environmental sensitivity emerges from their creation", underlines the artistic director of the festival, Marco de Blois.
Sylvie Trouvé and Dale Hayward met working in stop-motion television series. They founded See Creature in 2011, with the belief that anything can be animated. The studio specializes in stop-motion and hand-crafted, traditional animation techniques with the latest digital technologies to create award-winning animated content. They pride themselves on creating healthy productions where communication, clarity, and trust allow the creative process to flow. They create animation for documentaries, short films, commercials, and music videos. Their clients cover the full spectrum of the film industry from independent filmmakers to the NFB to ad agencies. They have worked on award-winning films like Netflix's The Little Prince, and with brands like Nike, Hot Wheels and LEGO® and have created numerous auteur films at the National Film Board including the film Bone Mother (official selection of the 2019 Annecy International Animation Film Festival). Driven to foster the local and international stop-motion community, they started in 2020 an online education platform called See Learn Academy. Sylvie and Dale believe that stories can make positive changes, solve meaningful human problems, and help to make our planet a better place.
One of their latest creations, LES ÉMERVEILLEURS, the official music video for Ingrid St-Pierre's latest album, Ludmilla, will be presented in the Official Competition Sommets 2023 music video section!
The 21st Sommets du cinéma d'animation will take place from May 9 to 14, 2023.
The festival is produced by the Cinémathèque québécoise.