Normand Roger, winner of the 2023 Prix René-Jodoin
April 28th, 2023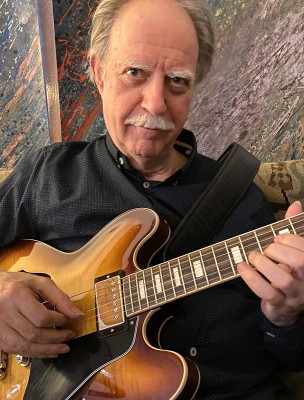 In 2015, the Sommets du cinéma d'animation and the Cinémathèque québécoise created the Prix René-Jodoin. This annual award recognizes the exemplary work accomplished by a Canadian animation personality. This year, the award will be given to composer Normand Roger.
Born in Montreal, Normand Roger began his career as a freelance composer in 1971 for the National Film Board of Canada. Although he has worked primarily in the domain of animation, creating well over two hundred sound tracks in the last fifty years, he has also composed music for documentaries, features, television dramas, children series, commercials, multi-media installations and many music themes for television in Canada and in the US. He is known abroad largely due to the success of the animated films on which he collaborated. These films have gamered several hundred prizes in international festivals including thirteen Nominations for Academy Awards of which six received Oscars. Although most of his work has been produced in Canada where he is located, he has worked for productions in the US, Europe, Russia and Japan and he has also been invited regularly to give lectures on the theme of "Music & Sound for Animation" which remains his field of choice. He as been associated with the work of some of the best known figures in animation such as Frederic Back (6 films including Crac, The Man Who Planted Trees and The Mighty River), Paul Driessen (9 films), Co Hoedeman (5 films including Tchou-Tchou and The Sand Castle), Eugene Fedorenko and Rose Newlove (Every Child and Village of Idiots), Regina Pessoa (Tragic Story With a Happy Ending, Uncle Thomas), Craig Welch (No Problem, How Wings Are Attached to the Back of Angels, Welcome to Kentucky), Gayle Thomas (A Sufi Tale, Quilt, M.C.Escher: Air and Water. Other collaborations include animation directors Ishu Patel, Bretislav Pojar, Raimund Krumme, Caroline Leaf, Lynn Smith, Sheldon Cohen, Joyce Borenstein, George Ungar, Claude Cloutier, Michèle Lemieux, Munro Ferguson, Théodore Ushev, Marv Newland, Janet Pearlman, Derek Lamb, Pierre Hébert, René Jodoin, Roberto Catani, Nicolas Brault, Piotr Sapegin, Chris Hinton, Michael Dudok de Wit, Alexandre Petrov, Pierre-Luc Granjon, Georges Schwitzgebel, Vladimir Leschiov, Joanna Priestley, Koji Yamarura, Izabela Pluchinska, Marcy Page and many others.
Although he works in a traditional way on dramas or documentaries exclusively composing the music, he has a particular approach with animation where he often creates the full soundtrack including the sound effects. Through the years, he has been working with a small team of collaborators including Pierre Yves Drapeau and Denis Chartrand.
Two films are currently under production: A Bear Named Wojtek, a UK-Scotland-Poland co-production directed by Iain Gardner and Virgin Fandango a Canada-Portugal co-production directed by Marcy Page.
The Prix René-Jodoin 2023 will be awarded on Sunday, May 14, at the Cinémathèque québécoise, during the Sommets Awards Ceremony.