Artists' Talk ONF x Sommets : De la bande dessinée au cinéma
February 23rd, 2021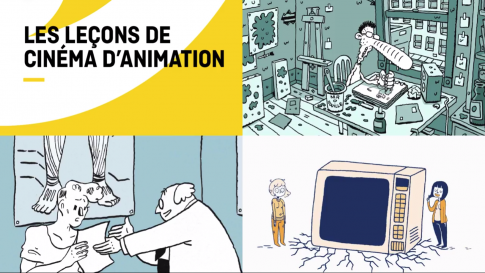 The NFB, in partnership with Sommets du cinéma d'animation, is pleased to invite you to a series of Artists' Talks that explore the process of adapting a comic book into an animated short, presented by** Iris Boudreau**, Richard Suicide, and Samuel Cantin.
The Great List of Everything, created by Cathon, Iris Boudreau, and Francis Papillon, was inspired by the French-language comic book La list des choses qui existent, published by La Pastèque and featuring authors Cathon and Iris—two curious, quirky, and imaginative young women who share their delight in everyday objects. The project was co-produced with La Pastèque.
Centre-Sud Chronicles, by Richard Suicide, is an adaptation of the eponymous comic book published by Pow Pow. Battling writer's block, an author finds the subject of his next book by observing his downstairs neighbour in Montreal's Centre-Sud neighbourhood. The short is part of the Comic Strip Chronicles collection.
The Turtle Syndrome, by Samuel Cantin, is adapted from his comic book Whitehorse (Pow Pow). An overly enthusiastic doctor informs Henri Castagnette that he has contracted a strange and unheard-of disease. The short is part of the* Comic Strip Chronicles collection*.
Marc Bertrand, who produced all three films, will facilitate the online roundtable, with the three artists sharing their experiences and creative approaches to adapting their published works to the screen.